Mobile Number Portability map
Interactive MNP map of the countries which have implemented mobile number portability, sorted by the implementation date. We do our best to keep this map updated in order for it to be of service as a useful reference tool for our industry colleagues.

Please don't hesitate to contact us if you find any mistakes or if something is not up to date.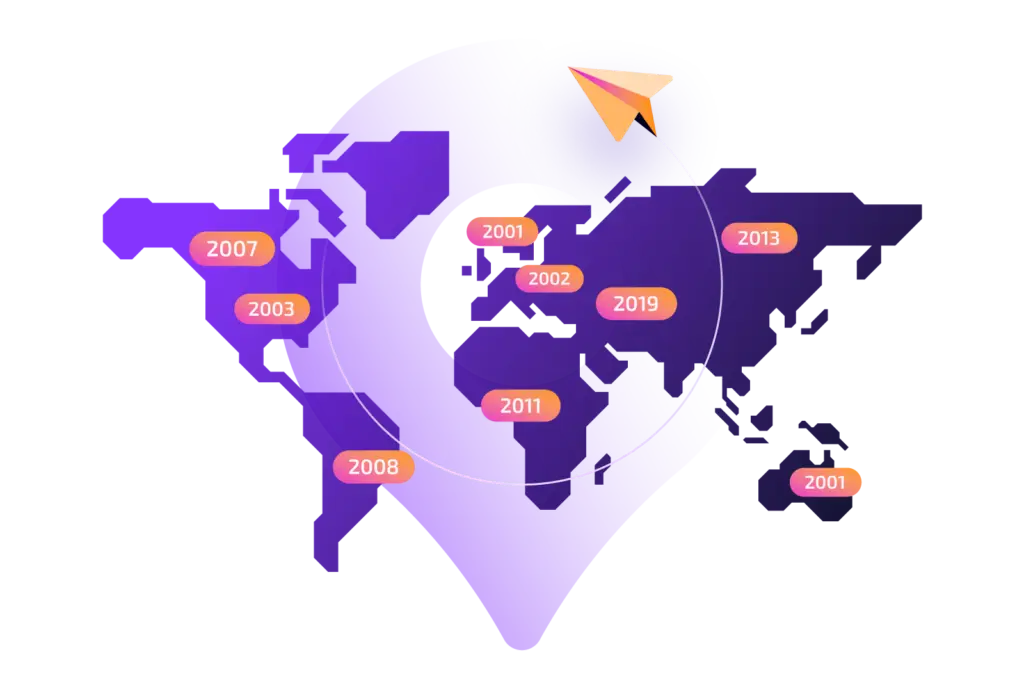 | | | | | | |
| --- | --- | --- | --- | --- | --- |
| United Kingdom 1999 | Greece 2003 | Croatia 2006 | Macedonia 2008 | Ghana 2011 | Kazakhstan 2015 |
| Netherlands 1999 | Ireland 2003 | Czech Republic 2006 | Malaysia 2008 | Bahrain 2011 | El Salvador 2015 |
| Hong Kong 1999 | USA 2003 | Japan 2006 | Mexico 2008 | India 2011 | Senegal 2015 |
| Spain 2000 | Cyprus 2004 | Oman 2006 | Romania 2008 | Kenya 2011 | Maldives 2016 |
| Switzerland 2000 | Austria 2004 | Poland 2006 | Singapore 2008 | Serbia 2011 | Iran 2016 |
| Australia 2001 | Hungary 2004 | Saudi Arabia 2006 | Turkey 2008 | Belarus 2012 | Tanzania 2017 |
| Norway 2001 | Iceland 2004 | South Africa 2006 | Dominican Republic 2009 | Chile 2012 | Bangladesh 2018 |
| Sweden 2001 | Lithuania 2004 | New Zealand 2007 | Ecuador 2009 | Kuwait 2013 | Bolivia 2018 |
| Denmark 2001 | Slovakia 2004 | Canada 2007 | Albania 2010 | Moldova 2013 | Morocco 2018 |
| Belgium 2002 | South Korea 2004 | Israel 2007 | Argentina 2010 | Nigeria 2013 | Ukraine 2019 |
| Germany 2002 | Luxembourg 2005 | Latvia 2007 | Jordan 2010 | Russia 2013 | Philippines 2019 |
| Italy 2002 | Slovenia 2005 | Pakistan 2007 | Peru 2010 | Qatar 2013 | Vietnam 2019 |
| Portugal 2002 | Taiwan 2005 | Brazil 2008 | Thailand 2010 | Armenia 2014 | Palestine 2020 |
| Finland 2003 | Estonia 2005 | Bulgaria 2008 | Colombia 2011 | Azerbaijan 2014 | |
| France 2003 | Malta 2005 | Egypt 2008 | Georgia 2011 | Honduras 2014 | |
Learn more about our services