Picture this – your marketing team writes an engaging promotional message which they send to tens of thousands of your clients only to learn that an important part of the message was lost along the way.
Perhaps the call to action was cut out?  
Maybe the link to the promo code got modified?  
Or the SMS route did not deliver your messages at all?  
As the SMS industry continues to grow, so does the number of companies offering SMS routes; and not all of them work as advertised! In the past, it may have been enough for your marketing department to write captivating content to ensure high conversion rates, but nowadays there is an even more important issue to consider – SMS delivery.
If you are experiencing any SMS route delivery issues, your customers can't engage with your content and conversion rates suffer while you still have to pay for those tens of thousands of SMS that your vendor seemingly delivered with no issues to report. Let's dive into your options here.
Approaches to SMS testing
Some companies decide to buy a lot of numbers to serve them for testing purposes. This approach works in case you are testing delivery to numbers in your home country, however, there are many other things to consider: 
You may need to test internationally, but for accurate results, the SIM cards must be local and not in roaming.
You would need to have a vast number of SIMs and change them frequently, so your suppliers don't catch wind of your quality checks.
You may have to invest a lot of resources, develop your platform to fit your testing needs, dedicate a testing team, etc.
To address these issues, SMS testing platforms like TelQ were created. 
They help your bottom line by ensuring your messages are being delivered as intended and they offer many features to fit your testing needs. On an SMS testing platform, you can test messages with the identical content your team created and check their actual delivery.
How SMS testing platforms work
The process is simple:
You can choose any destination you would like to send your test message to, and we will give you a testing number;

Example how you can choose any destination to test in TelQ platform

 

You can create the content you would like to check and send the message via the route you choose;
You will receive the test results and check if the message got delivered, if the content was changed and how long it took.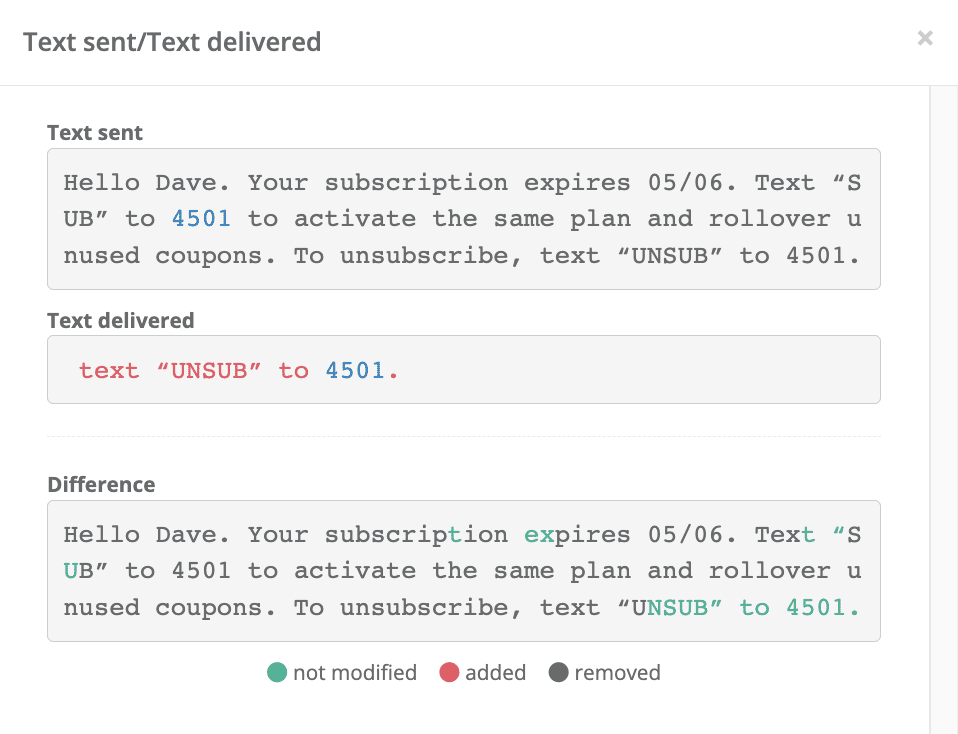 These simulated messages will help you spot any routing issues before they start making a negative impact on your business, cause you
unnecessary cost
or damage your reputation. 
Most importantly, you will be able to check all your routes internationally and see if you are receiving truthful delivery reports from your SMS vendors. 
Testing tools are particularly useful for fake delivery detection, which is indisputably their greatest value. You may have experienced issues where you received limited engagement though your SMS campaign was seemingly reaching your customers. Some SMS providers will send you positive delivery reports even though some percentage of the messages are not being delivered – this earns them extra profit.
We are here to help you address this issue and bring complete transparency to your SMS campaigns.
What you gain by SMS testing
SMS testing will help you:
Ensure your messages are actually being delivered. By testing SMS routes, you can identify and remedy any delivery issues before sending messages to your customers. This helps to ensure that all your intended customers receive important messages, such as promotional offers or time-sensitive information such as OTP codes.
Optimize delivery speed by identifying your fastest delivering and most efficient SMS routes. This can improve the speed with which your messages are delivered and enhance your customer experience.
Maintain message quality by identifying and correcting any issues with message formatting, content, or delivery that may affect the customers' perception of the message.
Prevent loss of revenue. You would cut costs spent on manual testing, acquiring and maintaining numbers for every country/network you need to check, dedicating a team to this endeavor, etc. With TelQ, you can automate the testing process, freeing up resources for other tasks while ensuring that your SMS routes are tested thoroughly.
To sum it up
Testing your SMS before starting your bulk SMS campaigns brings many benefits and helps you take control of how your message is being delivered to your customers. You may choose to start testing yourself, but to help scale your business,
TelQ SMS testing platform
is here to help.
TelQ – We got you covered!